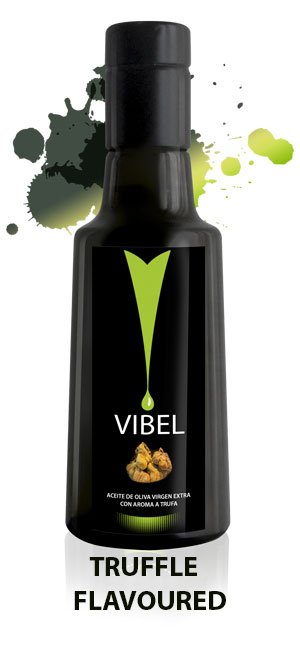 VIBEL TRUFFLE-FLAVOURED MANZANILLA CACEREÑA EVOO SET
SET OF 12 x 250 ML BOTTLES (VAT and shipping not included)
TASTING NOTES:
Vibel also features a TRUFFLE-infused and flavoured Extra-Virgin olive oil.
SUGGESTED USES:
It can be used raw on all kinds of dishes, whether hot or cold, and just before serving. It marries well with salads with mushrooms, eggs, pasta, rice, potatoes and meat.
This product is high in flavour, so use in small amounts. Just a few drops will add the much sought-after white truffle-infused flavour.
PACKAGING FORMAT:
Net weight: 250 ml
Storage instructions: Store in a cool dry place away from direct sunlight.
100% Manzanilla Cacereña Olive
Vibel Extra-Virgin Olive Oil
Store in a cool place away from direct sunlight and heat
Product: AOVE VIBEL TRUFFLE FLAVORED | EAN Code: 8414606706259 | Unid. Boxes: 12 | Weight Box: 6,50 Kg.